This week each of the Housewives got to live out her princess fantasies in a sparkling, custom Mikael D dress.
JK! Only the ladies Kara's getting along with were deemed worthy of those pricey sequins. Roxy, meanwhile, got to watch the others try on sample size dresses, and Jana got shown to the sales rack.
It was a nasty bit of business whether it was intentional or not.
(Before we jump in, make sure you're caught up on the last episode's Queen Bee)
Here's how it all played out:
Kara
-2 Kara's lashes lady spills the beans about her disapproval of the other ladies
+2 Her mom wears vintage, Gianni-era Versace
-3 She missed the boat on Grego's party
+2 Kara's fashion designer pal just dressed Gwen Stefani in Cannes
-5 She manages to offend a third of the women at her shopping party
Kara revealed her achilles heel as a hostess this week when she said she believes presentation is 99%. Yes, Kara knows how to throw a chic little soirée. She'll fly in cookbooks from Italy or designers from France; artfully arrange lemons in a bowl and send you home with a fancy goodie bag of 7-Eleven candies.
But what good is all that if she resents your guests (her Italian dinner) or, worse, they feel uncomfortable and shamed (this week's designer dress party)?
What Kara needs is to stop stressing presentation and take the social temperature in the room.
Now take your candy and get out, K? Total: -6
Roxy
+2 Roxy's dog gets her eyelashes done
+2 Roxy gets the tea on Kara from her eyelash lady
+1 She waits until Kara snubs her again to unleash her dirt
Everyone knows the glam squad girls (and boys!) have the best hot goss. Roxy wisely finds out what Kara's been saying about the rest of the cast from the eyelash lady they share.
Then, when she gets snubbed at Kara's sample size shopping party (rude, BTW), she pulls the goss out of her arsenal and fires.
We absolutely can't wait to see how that sitch blows up next week.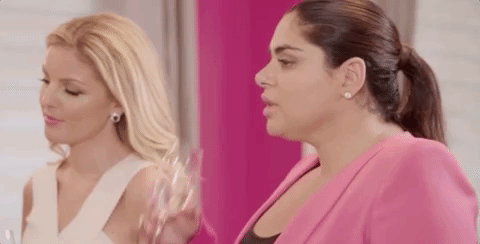 Total: +3
Ann
+2 Ann has the ladyballs to get down on one knee for a re-proposal
-2 But vow renewals are a bad omen on Housewives
+2 When Roxy tells Ann she's getting wet, Ann snaps back, "You like me that much?"
+2 Ann's giant leather glove handbag is amazing
Newbie Housewives, do your research: vow renewals are a bad omen on this show. We've already seen this play out poorly with Vicki and Donn, Ramona and Mario, and Peter and Cynthia. And it's not just Housewives either, vow renewals are a celebrity curse!
Now, now. We're not saying Ann and Stephen are headed in that direction. But we are going to burn a little bit of sage before Ann walks down that aisle.
OK, now let's get a replay on that literal hand-bag: Total: +4
Joan
+2 Joan's second home in Toronto is gorgeous
+1 Plus she's no longer stuck out in King City
+2 Joan has a different gay guy on hand to assist her at every turn
Joan has a fabulous house out in King City…but it's out in King City. Finishing up renovations on a chic little spot in the city with a view of downtown Toronto is a definite boost to her cred.
Total: +5
Jana
+2 Jana is pals with sports celeb Gregg Zaun
-2 Kara points Jana to the sales rack
+1 She claps back by denying Kara's dresses and her charity gala
With all the attention paid to Kara vs. Roxy, we may have been sleeping on Kara vs. Jana. When Kara pointed Jana to the sales rack at her party, she may as well have openly declared war.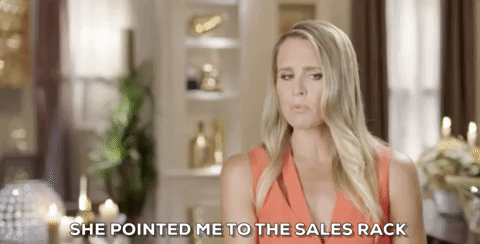 Jana's not backing down, though. Oh, not at all. All that Joga has given her a seriously buff backbone.
Total: +1
Grego
+2 Grego was a ballerina as a young girl
+3 She's Queen of an island yacht club
+1 Grego finally lets her guard down and shares with the ladies
Can't you just imagine a graceful young Grego as a ballerina, her hair pulled back tight into a little bun? The reveal of her ballet origin story this week was v v chic.
What we love best about Grego, though, is her facial expressions. Is it too early in the season to hand out a Lifetime Achievement Award?
No bother. We're going to. We've done it! Grego, a walking, talking, IRL reaction GIF, is our Queen Bee this week.
Let's take a look back at a few of her greatest hits… Total: +6