We only have one week of RHOT left and we're already heartbroken about it.
What will we do without all the high drama and Roxy Fabulousness in our lives?
Speaking of Roxy – she was MIA this week.
(Before we jump in, make sure you're caught up on the last episode's Queen Bee)
Let's get into it…
Roxy
-1 Roxy's screen time this ep is entirely via FaceTime
+1 But her extended Eurotrip is actually pretty fab
Roxy, Roxy. Wherefore art thou Roxy? This week she's off being fab at her fave hotel in London, which keeps her out of the fray, but also deprives us of her Roxy Fabulousness.
Total: Even
Grego
-1 Grego gets stuck with a busted grocery store cake for Pierre's birthday
+3 Pierre is such a demure cutie
Pierre could write a manual on how to be a first season Housewives husband. He's adorable, sweet, and he knows how to stay in the background while pushing his wife into the spotlight. And his birthday party was pretty great – even if Greggo did get stuck with that busted grocery store cake.
Greggo gets extras points this week for Pierre. If we could, we'd even throw a few points his way for his adorable dad dancing.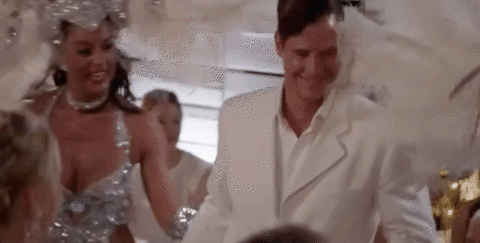 Total: +2
Ann
+2 Joan wants Ann to wave her fashionable finger of approval over her new condo
+4 The dress code for Ann's vow renewal is "If you're not overdressed, you're underdressed"
+2 Ann's outfits are always the talk of the town
It's telling how the other ladies have such reverence for Ann's taste, like how Joan wants her to approve of her new townhouse. And it feels like every time the ladies all get together, Ann's outfit is the one we remember. (Still not over her hand handbag, TBH.)
Now BRB, we're going to clean out our closets with our new sartorial mantra: If you're not overdressed, you're underdressed.
Total: +8
Joan
+2 Joan holds her own interrogating Kara
+1 Jana has Joan's back in a big way
+3 Joan has a whole entourage of support in her feud with Kara
-5 Joan is MIA as the rest of her squad faces off against Kara
At this point, it's clear Joan is beloved by the ladies. Every one of them has her back – aside from Kara, of course. But even Kara wants to have a friendship with Joan. Where was Joan when everyone took up her cause with Kara, though? Her being MIA that whole time was totally weird, right?
ANYWAYS, Joan totally stood up for herself with Kara before that.
This is what it looks like Joan has had it. Officially.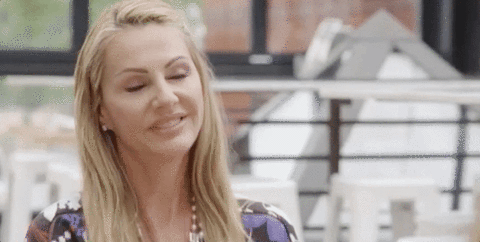 Total: +1
Jana
+2 Jana looks smoking for her date
-1 She breaks a cardinal dating rule: don't talk about your divorce on the first date
Jana, Jana, Jana. Listen: you're smoking hot, super successful and have a trademarked calming-yet-energetic JOGA vibe. You're a catch!
Now, whatever you do, never spill the beans about your divorce on a first date again.
Total: +1
Kara
-2 The other ladies think Kara just wants their money for her gala
-2 Ann reports everything Kara's been saying about Joan back to her
-2 Kara just comes out and admits she'd been trying make the ladies barf
-1 She brings up fundraising for at-risk children during a fight about panties
It was another rough week for Kara. It's been a bit of a rough season for Kara. But you know what? In the Housewives universe, that's not always a bad thing. Think Lisa Vanderpump: throw her to the wolves and she'll return leading the pack.
Kara may be on the outs with the other ladies, but she's the main topic of conversation almost every week. Like it or not, Kara's a star. And for that, she's finally our Queen Bee this week.
Rule on, Queen Kara.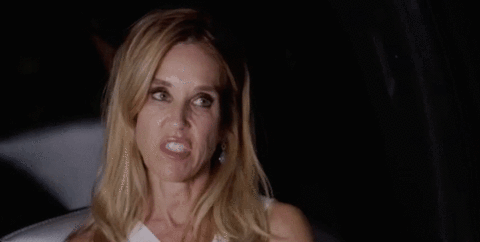 Total: -7