It's week two of RHOT and we've already seen our first friendship breakup.
How quickly Roxy and Kara went from Yorkville shopping pals to popping off on each other in High Park. And as that alliance blew up, we saw our first major RHOT power shift.
Sorry, Kara. It was a rough week for you.
(Before we jump in, make sure you're caught up on the last episode's Queen Bee)
The RHOT Rankings:
Kara
Kara backtracks on her face hickey story -3
Her husband is the calming force she needs +2
Kara's not invited to Roxy's tequila party -2
…and all the other ladies are relieved she's not there -4
Kara has exactly no allies at the moment. She insulted Ann and Grego and made a poor impression on Jana and Joan. Now Roxy's ditched her, too. But we have faith she'll pick herself back up.
In the words of Kara Alloway: Don't bet against Kara Alloway.

Total: -7
Joan
Joan's "not judging" Kara…except she sort-of is -2
We all want to live in Joan's house +2
Points for the Joan-Jana-Grego trio alliance +4

First off: how amazing is Joan's house? We got the full tour this week and that indoor pool is the stuff day dreams are made of. Roxy wants to live there – and so do we!
As for her "not" judging Kara. Be honest, Joan: you're judging just a little bit. And that's fine! You're a Housewife. Your judgements are precisely what we're here for. Total: +3
Jana
Points for the Joan-Jana-Grego trio alliance +4
This line in perfection: "Anyone who doesn't drink kind of makes me nervous" +2
Jana went mumsy for the tequila party -3
Jana's impression of Kara is hilarious +2

Jana's three-way friendship with Grego and Joan makes her position in the group super secure. Will anything break these three up? Their friendship seems rock solid, but we've seen the closest of Housewives part ways over the years.
Also: how hilarious was her impressions of Kara? It had us giggling on the couch.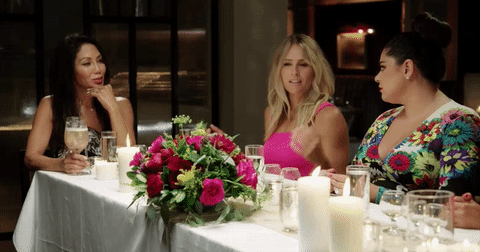 Total: +5
Grego
Points for the Joan-Jana-Grego trio alliance +4
The way she jumps between French and English is adorable +2
Grego was cute as a button this week, but we didn't get enough of her! We'll take more of Grego, please.
This week: +6
Ann
Roxy's super concerned about the impression she made on Ann +2
Ann plays it cool with the whole face hickey situation +2
Her daughter knocks her down a peg -2
How long was Ann's previous marriage? "Too long" +1
Ann's still projecting Queen Bee levels of self-assuredness, but she missed out on the top spot this week. She's still a Queen, just not the Queen.
Total: +3
No. 1: Roxy
Roxy scores the ep's first scene two weeks in a row +4
She drinks a smoothie with beauty elixirs every morning +2
She wisely cozies up to last week's Queen Bee +2
Roxy told Ann her side of the face hickey story before Kara could +2
Roxy's not messing around. She knows when to be polite and when to throw down. And we cannot wait to see her throw down again.
In celebration of her first week as Queen Bee, here's Roxy reading the rest of the cast:
Total: +10
See you next week in Muskoka. Here's to hoping it'll be fabulous. Roxy Fabulous.