Welcome back to week two of The Real Housewives of Muskoka.
Yes, we're back in the woods this week on RHOT – if you can consider a private island with inhabitants who consider a platform wedge a casual cottage sandal the woods.
And boy were there fireworks this week. Literal fireworks, shot up off the beach by Kara's husband and son, but also, of course, fireworks across the dinner table (and the brunch table the next day), too.
(Before we jump in, make sure you're caught up on the last episode's Queen Bee)
Here we go….
Kara
Flies in cheese from Italy for her dinner party +1
Serves prosecco, not Dom -1
Her dinner party is a hit! +3
But she's too stressed to enjoy it -5
Takes Grego, Anne and Joan on a tubing "revenge ride" +2
They love it and *she* gets injured from the bumpy waves -5
Even if she did steal her theme from Roxy (cunning move, BTW), Kara threw a legitimately great dinner party. Everything was on point, from the food to the ambiance. She even had lemons in a bowl, a la RHOC's Shannon Beador.
There was just one problem: she was the only one having a lousy time. Kara was too uptight to enjoy herself. She needs to loosen up a little – and maybe take a few more sips of a white wine spritzer.
We want to pat her on the back and whisper: "Deep breaths, Kara, deep breaths."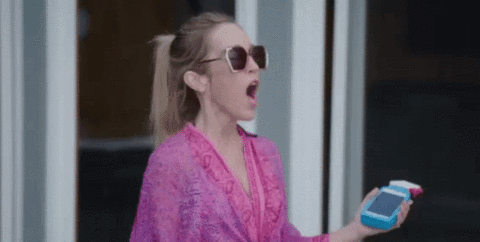 Total: -5
Roxy
Roxy can throw shade with just a hair flip +2
She manages to protect her blow out even on a stand up paddle board +2
Keeps waiting for a surprise birthday party that isn't coming -2
Takes the high road and accepts Kara's apology +1
Are you as obsessed with Roxy's hair as we are? We love a woman who gets a blow out for a weekend at the cottage. That's some Kyle Richards levels of commitment to maintaining bounce and body.
As for her position within the clique, Roxy hit a crossroads this week. There was a consensus Kara throwing a party on the night of her birthday was a pretty crappy thing to do, but the other ladies also wanted Roxy to, like, let it goooooo already. And eventually, she did: she accepted Kara's apology, even if she didn't buy it.
It looks like next week she'll be rewarded with a blow out surprise b-day bash. A Roxy Fabulous party!
Now let's review the tape on her hair flip of a response to the other ladies saying they had a good time with Kara at the Dock Party: Scratch, then toss! Now a close up:
Shhhhhhhhhade, honey!
Total: +3
Grego
Grego can't get the secret hand signals down -1
But she's still adorable when she tries them +2
She smells Kara's table dressing +3
Grego continues to be the absolute cutest. Whatever drama's going on within the group, Grego maneuvers right around in search of a good time. She's the type of girl who's always offering to top up your wine glass at a party.
Speaking of: what was the secret hand signal for "stop drinking"? And why didn't any of them remember to use it?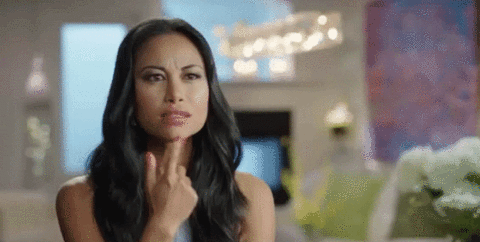 Total: +4
Ann
Ann's Muskoka look is "Couture Fishing Hooker" +5
Takes her dog jet skiing +2
Her "flats" have a six-inch heel +3
Ann's approach to Muskoka is unlike anything we've ever seen. First she gets her fishing gear fitted by a seamstress, then she stomps around Muskoka in (fabulous) heels, and to top it all off, she declared her look "Couture Fishing Hooker."
We couldn't have described it better ourselves.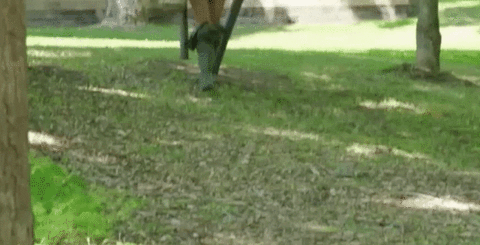 Total: +10
Jana
Jana has an annual hookup with a mystery Muskoka man +3
Insists on bringing wine roadies when Kara's dinner party moves to the beach +2
Thanks Kara for her hangover +2
Can we talk about how Jana has a dude on reserve in Muskoka? What a boss! Every single lady should have a man on hold wherever they travel.
And what about her thanking Kara for her hangover? Maybe she truly couldn't sense Kara was completely P.O.'d with her, Joan and Grego's Grigio Girls antics, but we'd rather believe she was doing a lighthearted trolling.
Total: +7
Joan
Joan had "sex tents" at the dock party +3
She's a fun drunk +2
Throws a killer hangover brunch +4
Took her panties off at Kara's dinner party +2
Then fessed right up to it the next day +5
Joan's a good time girl. We didn't think she'd be able to top last week's Dock Party, but she managed to steal the show the week of Roxy's birthday and Kara's big dinner party.
How'd she do it? By taking off her panties. Listen, all Joan wanted was to go skinny dipping. Maybe if Kara would have let her, she wouldn't have found a spare set of drawers on her property the next morning.
The best part, though, was that Joan fessed up to the whole ordeal right away. When Kara started sniffing around for answers, Joan just raised her hand with a smile, all: that was me!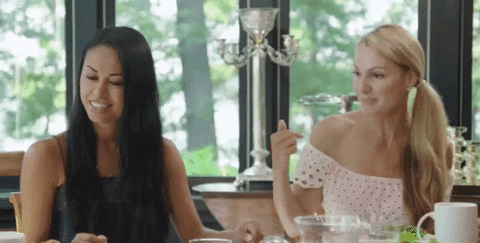 She truly is the Queen of Muskoka.
And she's also Queen Bee of RHOT this week. Two in a row! Who else could it have been? She had the home field advantage.
Total: +16