The curtain has fallen on RHOT season one. It has been a roller coaster of cottage cocktails, dog park brawls, and mysteriously missing panties.
But before it's all truly over, we have one bit of Housewives housekeeping: selecting our final Queen Bee.
Here goes…
Kara
-2 First the eyelash lady, now the stylist. Everyone is reporting what Kara says back to the other ladies
-2 She can't even muster up a perfunctory "I'm sorry you feel that way" Housewives apology for Roxy
+2 Graham wears a kilt to the vow renewal
+3 Kara's Oscar gown is a stunner
When the stylist from Kara's party turned on her and applied for a position as Greggo's new gay BFF, it felt like the her last ally was jumping ship. Then, the unexpected: she managed to fix things up with Joan when all the ladies went to lunch.
Kara's friendship with Roxy feels totally dead – like, season three Bethenny-and-Jill dead. But hey: you win some, you lose some. That feels like the season-in on Kara: she may have lost a battle here or there, but don't count her out for the war.
If nothing else, she taught us this: God wants you to be fabulous.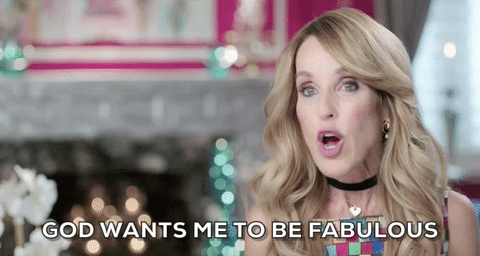 Total: +1
Roxy
+2 Roxy's channeling Lady Gaga rocker chic
-1 An outfit repeat! Not very Roxy Fabulous
+4 Roxy brings the receipts with her laundry list of Kara grievances
Everything that makes Roxy a great Housewife was on full display this week. Yes, she was channeling Gaga in her certified Roxy Fabulous™ way, but she also totally brought the receipts on Kara when the ladies had a sit down.
Even when the others gave Kara a little leeway and forgiveness, Roxy refused to bend. She didn't get an apology – and she's not going to let it go until she does.
That's how you Housewife, folks.
…and this is how you roll your eyes at Kara, which Roxy is v v good at, too.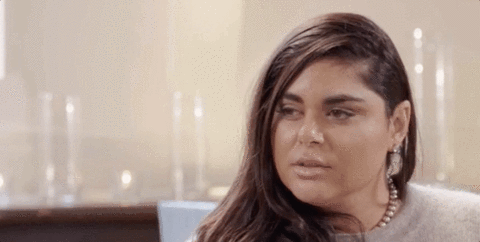 The season-in on Roxy? This one's got the potential to be a future Housewives vet.
Total: +5
Joan
+1 Joan's housewarming is also a fashion show (!?!)
+2 She serves up Greek Goddess for the show
+3 She actually gets an apology for Kara
+3 Joan wears the dress Gwen Stefani wore in Cannes to Ann's vow renewal
Joan had two major fashion moments this week. First, she picked the exact right dress from the collection she showed in her townhouse and had a total Greek Goddess by way of a watercolour painting moment.
Then she wore a dress we recognized to Ann's vow renewal: it was the slinky silver one from Kara's fashion party. A.K.A. The one Gwen Stefani wore on stage in Cannes. Don't think we didn't see that, Joan. Well played. The season-in: Joan has a big heart, but by the end of season one, we finally got to see she has a backbone, too.
Total: +9
Jana
+2 Jana gets the props she deserves from Roxy for facing Kara without fear
+1 She speaks the level-headed truth: Drinking at a dinner party is not abnormal
Jana is RHOT's voice of reason. She may have gotten into it here and there with Kara, but she always remained calm and reasonable. And she always had a point. Like, drinking at a dinner party is not abnormal. Amen.
Also: she had us lol'ing at her Jana-as-Kara's-rug impression. Jana's season-in: she proved herself to be sweet, but not too sweet – and that's a difficult balancing act.
Grego
+4 Grego snags Serg El-Azzi the stylist from Kara as her new gay BFF
+2 Then she immediately gets the tea on Kara from him
+1 Pierre looks cute in his bowtie
Now that the season's over, how about a quickie spinoff with Serg and Grego clicking away adorably in half-English, half-French? We're thinking What Not To Wear by way of the Real Housewives of Toronto. Sounds good, non?
The season-in? Grego is an adorable ball of energy; all dance moves and GIF-worthy reactions. She's the life of the party, so yes: we'll have another glass of Pinot Grego, please.
Total: +7
Ann
+1 Anne's vow renewal has a circus theme (!?!)
+10 Anne's train is, like,1,000 feet long
+2 She's a beautiful raven bride
+5 Hosts the final party of the season
+4 Her new ring is, as Kara puts it, a salt shaker on her hand
First, we have to air a grievance: Ann kept calling her vow renewal a wedding. Ann, girl. That was not a wedding. What's wrong with calling it what it is?
Now, we know we said there's a Housewives curse on vow renewals (…is THAT why Ann won't say the words?), but we have to admit that Ann's bridal circus was fun. It was the perfect reality TV mix of "whoa" and "whhhhhhat??"
She literally descended from the ceiling! It was pretty amazing.
And we need to talk about that train… Check the back of the frame: it literally has it's own staff.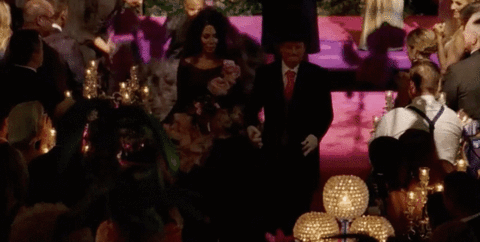 FAB!
And so we end exactly where we started: with Ann as our Queen Bee. Total: 22