When it comes to reunions, no one SUR-ves up reaction shots quite like the cast of Vanderpump Rules. The three-part VPR reunion was chalk full of eyerolls, deep sighs and exasperated hair tosses, making for some of the most GIF-able episodes of the show ever.
Here are the best reactions from the reunion so.
1. When everyone was sick of hearing about Rob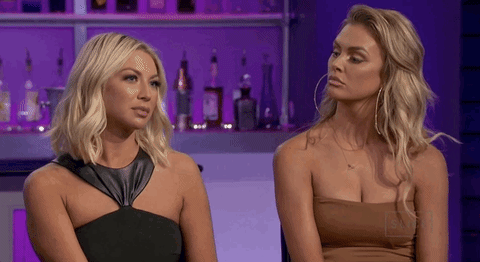 Scheana had a bit of a Marcia, Marcia, Marcia thing going on this year. Rob, Rob, Rob. That's all we ever heard. Clearly the rest of the cast was as sick of it as the audience. When Scheana started blabbing on about her meet-cute with Rob, the rest of the cast made their feelings blisteringly clear.
Stassi and Lala started twisting around in their seats, unable to hide their distain, then James straight up drifted off into a meditative slumber.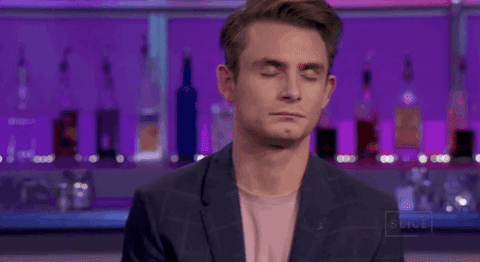 Even Katie, who went out of her way to be provocative this season, found the story uncontrollably boring.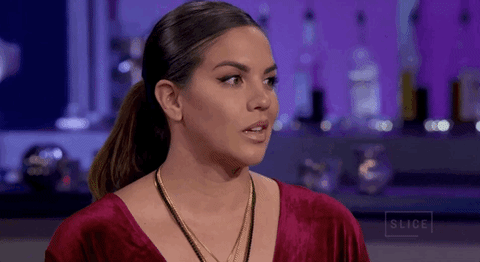 ***
2. When Stassi had to atone for Patrick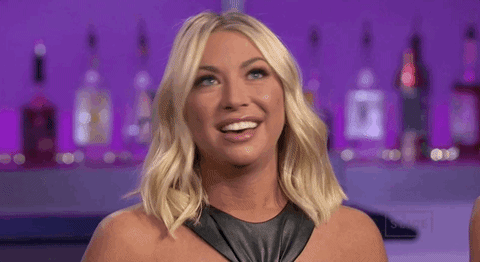 To be fair to Scheana, pretty much all the ladies had a garbage boyfriend dragging them down this reunion. But at least Stassi had a pinch of self awareness. After watching the tape back of Patrick's monster moments, Stassi tossed her head back in defeat, clearly mortified by the years (!) she spent with that nightmare of a human manbun.
***
3. When Lisa shaded Tom Tom over their finances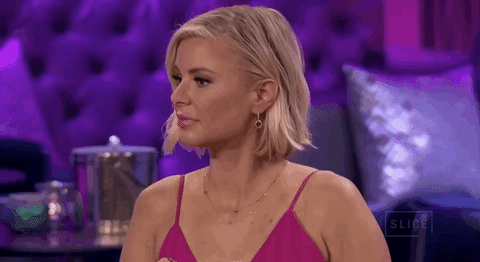 It turns out Lisa hasn't even cashed the Toms' cheques. And she got pretty sassy about it! When Andy asked the Toms whether they knew the cheques hadn't been cashed, Lisa cut in with, "They know. They'd miss 50 grand in their bank accounts. Come on, they're not that rich."
Maybe she's right, but ouch! Either way, the reactions from the WAGS of Tom Tom were priceless.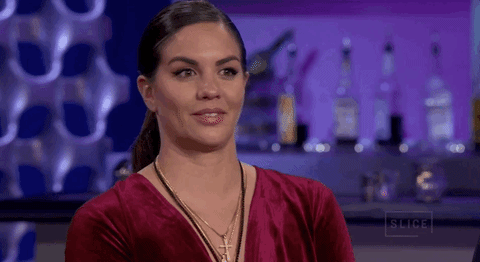 ***
4. When Stassi literally pointed at Jax and laughed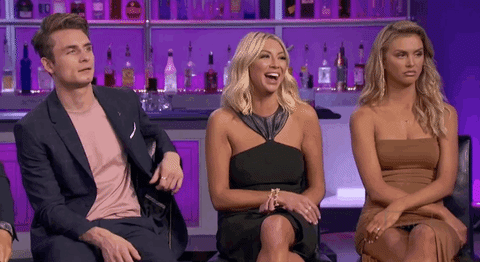 The shade didn't stop there. When Jax inquired about whether Lisa and the Toms should have ironed out more details before the boys handed over cheques, saying, "That's a lot of money, I don't have 50 grand in my pocket," Lisa was ready with yet another clapback, all, "Well I didn't ask you for it."
No one got quite as much delight out of the burn as Stassi, who literally pointed at Jax and laughed. It gave us hope that in a post-Patrick world Stassi will finally revert to her original form – an insanely watchable schoolyard bully.
***
5. When Lisa couldn't handle a little fellatio talk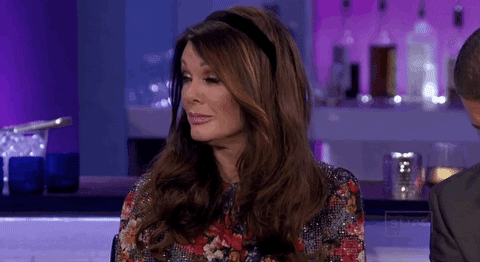 On RHOBH, Lisa's constantly slipping in innuendo (usually about one of her pets, but that's a separate dog bone to pick) then acting shocked when the other women can't handle her "dry" British humour. So what in the DJ Khaled was up with her outsized reaction to Ariana bringing up consensual oral sex with her longterm boyfriend?
You'd think Lisa could handle a little sex talk. Then again, she swears she and Ken, like, never get it on. That seems to be a dry fib, but who knows? At this point, nothing would SUR-prise us.
***
6. When Lisa tried to excuse Jax's behaviour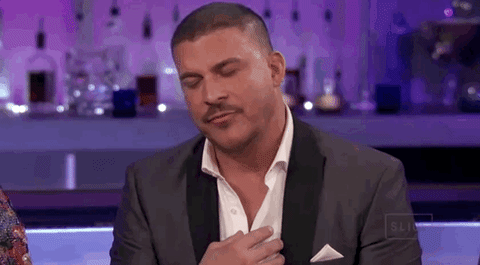 Faith was very noticeably absent from the reunion (apparently she was filming Ex On The Beach), which gave everyone yet another chance to blame her for Jax's horrendous behaviour. Surprisingly, Lisa jumped on the bandwagon the Witches of WEHO have been driving all season and added to the narrative that Faith "trapped" Jax in a setup in order to win herself some screen time.
Even MORE surprisingly, it was Jax who said no, no, no to Lisa and to that narrative. Maybe the reiki really IS working?!
***
7. When Ariana couldn't contain how much she disagreed with Tom
Once again, the Toms defended Jax's trash behaviour. But when he tried to make an issue out of Lala playing Brittany the audio of Faith and Jax having sex instead of the fact that there was audio of Faith and Jax having sex, Ariana almost lost it. Like, she sucked her lips back trying to contain her words so hard she almost swallowed them.
***
8. When Ariana couldn't figure out Stassi's relationship with Patrick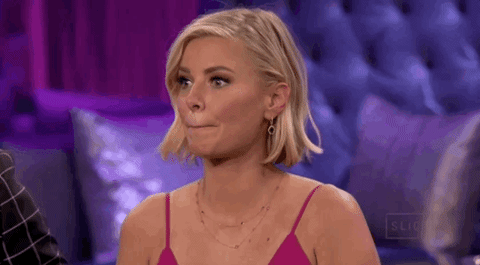 All season we've been wondering what Stassi could have possibly seen in Patrick. When she tried to explain why she let him get away with not wearing a costume to her murder-themed birthday party (the least of his offenses, TBH), it almost made less sense. We were all Ariana in that moment.
***
9. When Andy said 'incest' instead of 'incense'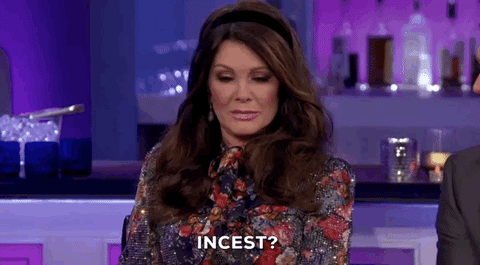 Every now and then, even Andy slips up. When he said Jax lights "incest" before his reiki master comes over, the entire cast was pretty much like, "Mmm, 'scuse me?"
The kids table thought it was very, very funny.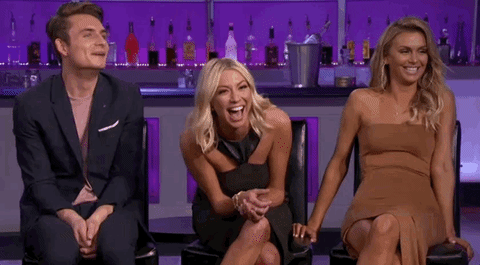 And Andy got embarrassed.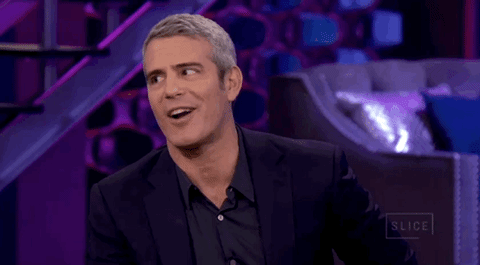 ***
10. When Jax tried to join the #MeToo movement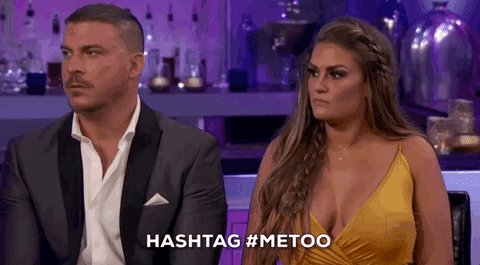 Against all odds, that wasn't the most awkward moment of part two of the reunion. Jax firmly won that one when he trie to use #MeToo as an affirmative. Apparently he thought the Me Too movement was, like, some kind of '90s-era Girl Power thing?
Uggggggh. Jax. You're no longer good looking enough to be that stupid.
***
11.When Tom was SO pressed about Stassi's event planning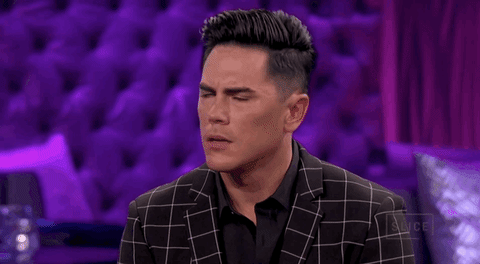 Is anyone really buying Stassi as an event planner? Lisa threw her a bone by letting her pick up some flowers and set up a selfie station so she could get back inside the walls of SUR where she belongs. And that's all fine and well, right? Well, not by Tom, who is seriously pressed by her faux hop up the resto ladder.
Liiiiiike, buddy. Chill.
Guess she won't be setting up any selfie stations at Tom Tom.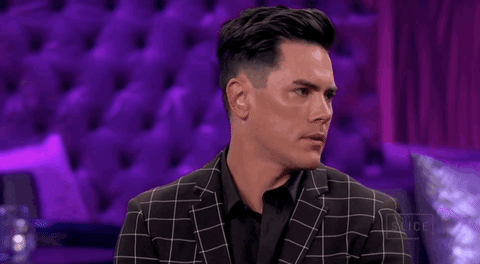 ***
12. When the cast was having none of Jax's job "offer"
Stassi's event planning was at least a little more real than Jax's supposed job offer in Tampa, which we've still got exactly zero details about. Like, was it for the Tampa Bay Lighting, a team we discovered by Googling "Tampa" and "hockey"? And the job itself was… social media… question mark?
Jax is the boy who cried life change and Scheana's head shake was the entire cast's reaction in that moment.
***
13. When Jax could barely identify Brittany's career aspirations… again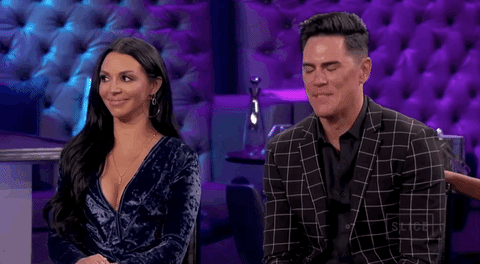 Jax wants us all to believe he's a changed man (again), but even after being raked over the coals for not knowing anything about what Brittany wants out of life, he can just baaaaarely identify her job aspirations.
She wants to work with developmentally challenged children, BTW, you dumb dumb. But maybe she should start by working with her emotionally challenged boyfriend?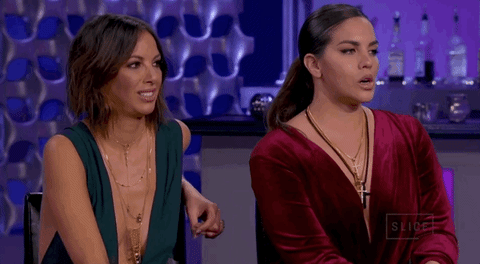 ***
14. When Scheana said she hasn't watched this season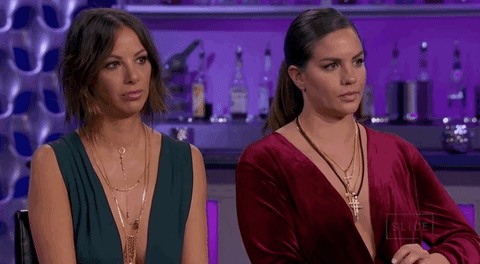 You know on Housewives, how some newbies claim to have never watched the season? And you think that either 1) They're lying or 2) They're telling the truth, but they're really stupid? Well, what's Scheana's excuse six seasons into a mega-successful show? Like, sure it wouldn't be fun to watch herself blabbering "Rob, Rob, Rob, Rob, Rob, Rob" all season, but come on, girl. You showed up to the reunion to re-hash something you haven't even consumed?
That speaks volumes.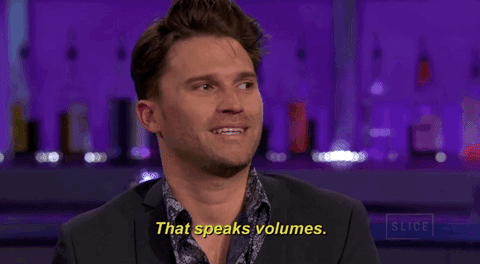 Stassi was all of us learning Schee-ners doesn't watch Vanderpump Rules, the best show on television.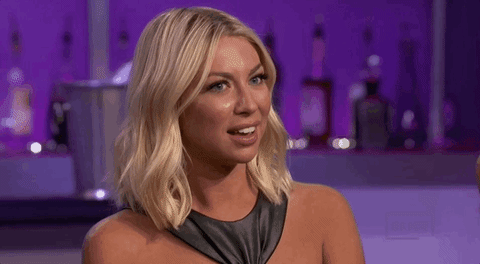 And Katie was just like: PFFT. Bye, Scheana. (The correct reaction.)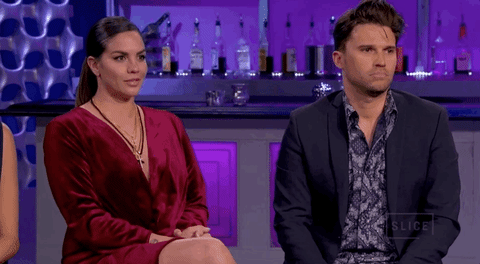 ***
15. When Ariana recoiled at the mention of kids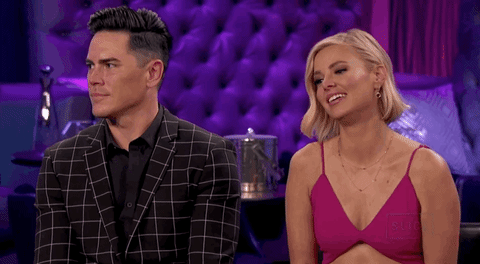 What's up with Ariana's intense reaction to any mention of children? Sure, being kid-free is awesome. But she literally recoils any time babies are mentioned, like she's having some kind of physical reaction. And Tom clearly wants them, which was so uncomfortable that it made us have a very Ariana-esque reaction to all their relationship awkwardness.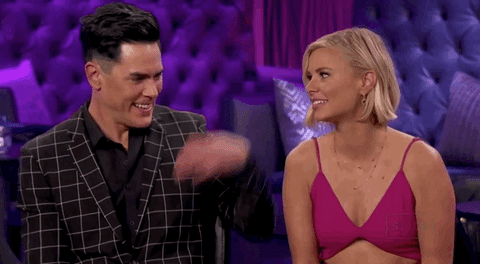 Does this mean we'll have to settle for little Tom and Katies? Or, much worse, little Jax and Brittanys? Little Lala and My Man-ers? Little DJ-slash-beauty queen James and Raquelers?
These are…not the best options. Ouf. Guess we'll just have to find out next season.