In August 2017, The Real Housewives of New York's Luann D'Agostino dropped the bombshell news that she and her new husband Tom are getting a divorce.
The marriage lasted seven months and two days; longer than Kim Kardashian's infamously short 72 day marriage to Kris Humphries, but just by a hair.
Luann confirmed the split with a tweet, then went radio silent.
It's with great sadness that Tom & I agreed to divorce. We care for each other very much, hope you respect our privacy during this sad time!

— Luann de Lesseps (@CountessLuann) August 3, 2017
Details are now starting to emerge, including a juicy exposé about the final weeks of the marriage by RHONY's unofficial paper of record, Page Six, which was first to report the marriage was in trouble last month. The Daily Mail's also reported LuAnn caught him cheating twice and that Ramona showed her photos of him kissing another woman.
The split hardly comes as a surprise. There were red flags circling this union right from its inception. It was kind of like Luann walked up to the UN, saw 193 red flags, then charged on in and asked if any of the ambassadors doubled as a justice of the peace.
Let's take a walk down memory lane and reminisce about every red flag she missed.
Trouble when he walked in
Tom was on the prowl on the Upper East Side cougar circuit long before he met Luann. In fact, in the fourth episode of RHONY he hit on Ramona and her friends to cringe-worthy results.

His pickup line was "Are you the three models from downstairs?" Then he kept insulting them, but "in a good way." He called Ramona 'lazy' (a 'compliment!) and her friend Joni 'promiscuous' (also a compliment!).

Ramona was swift with her assessment of Tom and his friends: "They were lame. If this is what's out there dating in Manhattan, I'll stay in my marriage forever."

Well, she wasn't correct about that last part. But, ANYWAYS! Tom: trouble when he walked in.

Tom foolery
At the start of season eight, Lu was hanging out with drunk Ray in Ibiiiiiiiiza and crashing at Sonja's Home For Wayward Middle-Aged Ladies.

Then one morning, Lu and Sonja were having a little OJ in their nighties and fur coats when Lu spilled the news she was sleeping with a mystery man. She failed to mention he was Sonja's longtime lover.

Soon enough we found out Tom dated Ramona too, but LuAnn brushed the whole thing off. You'd think the fact the guy dated two of her good friends (and, LBR, half the cast of the TV show she's on) would be a red flag. But nope! Lu already had her blinders on. She was all: Ramona's ex guy? What ex guy? That's not her ex guy!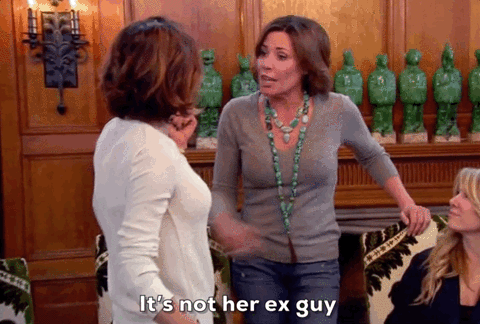 When Sonja revealed she slept with Tom two weeks before he got together with Luann, Lu said she was exaggerating, just like Ramona. Sonja said she'd been "lovers" with Tom on and off for ten years, but Luann claimed the whole thing was a one night stand. She took a very hard-line stance: there are BL and AL, Before Lu and After Lu. And BL did not matter.
Her friends thought the whole thing was BS.

Lu proceeded to ditch all her Good Time Gals and become That Girl. You know the one: when she's single, she's fun… but the second she's in a relationship, the party's over.
Don't let it be about Tom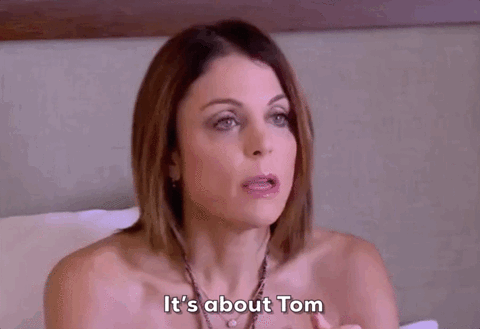 Y'all, it was about Tom! It's always about Tom. A friend texted Bethenny pictures of Tom making out with a woman at The Regency the night before their engagement party.
Lu believed the cheating once she saw the pictures, even though she kept her sunglasses on through the whole confrontation. (That was weird, right?) She got Tom on the phone and he said he was too wasted to remember what happened.

With that, Lu swiftly swept the episode under the rug. She started calling it a "stupid kiss" and branded his cheating as an insignificant mistake. By the time the reunion rolled around, she was acting like she had the perfect relationship again. But there was plenty more trouble ahead.
Tommy's Cookies

Can we talk about Tom's cookie jar? Could there have been a blunter metaphor for Luann to have missed than a literal cookie jar for Tom to get caught with his hand in? The honest truth, though, is that she didn't miss clues. She ignored them.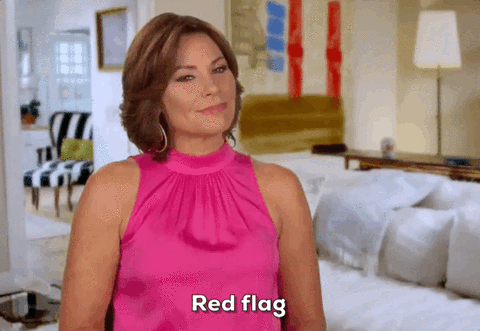 There was a parade of receipts dropped on Luann's lap proving Tom was a cheater and the marriage was a mistake. The first: Luann's friend Barbara, who was caught on mic saying Luann would rather go through with the wedding and get divorced than back out and prove everyone else right, which is, of course, exactly what happened.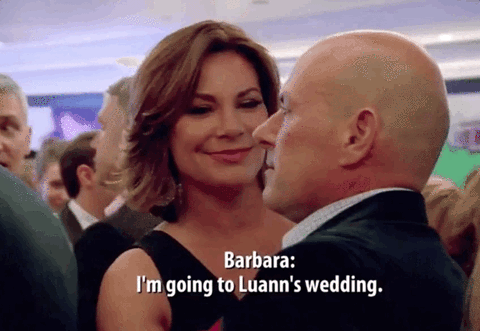 Then Ramona pulled some detective work worthy of Meghan King Edmonds circa RHOC's Brooks cancer scandal. She started calling Tom's old friends trying to the dirt. And she got it: she found out Tom was still out on the town, texting, groping, and kissing other women.
Surprise, surprise. But Luann didn't believe it. At a certain point, it seemed like maybe Lu and Tom had some sort of agreement, like they were planning to have an open relationship. And that would have been fine. Actually, it would have been great. It probably would have been really, really good television.
But Luann kept insisting that things were great, that they were monogamous, and that all the evidence he was cheating was just noise from "jealous bitches." At one point, Bethenny literally broke down in tears trying to convince Luann not to go through with the marriage, but all Luann did was deny, deny, deny, then spin around trying on wedding dresses.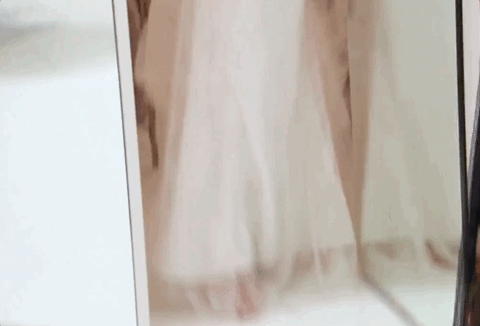 Last New Year's Eve, Luann officially left behind her Countess title and became Mrs. D'Agostino. She wore three (!) wedding dresses, ate wedding cake out of Tom's hand, and hired a Marilyn Monroe impersonator to hop out of a fake cake. She did not invite any of the other ladies, except for Dorinda. (Jill Zarin, for the record, was in attendance.)

There were rumours Tom tried to call the whole thing off the night before the wedding, but they charged on and said "I do" despite all the alarm bells. Then Luann returned to New York and gave the ring finger to all her haters.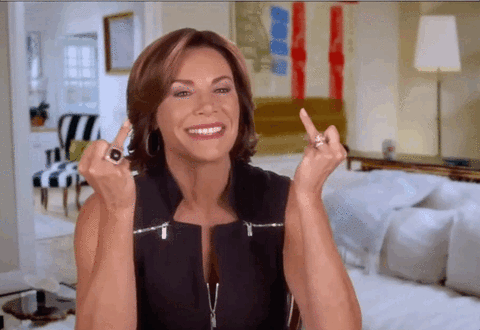 Actually, she made them attend a post-wedding party in a drab conference-y room to remind them all they weren't invited to the wedding. It was gloriously shady.

Trouble in paradise
By the time filming on season nine wrapped, there were murmurs of trouble in the marriage. On July 16, Page Six reported the marriage was "hanging on by a thread," claiming Luann slapped Tom in a fancy restaurant. The paper reported the couple had broken things off and gotten back together several times in the few short months they'd been married.
A few days later, Luann tried to dismiss the story as "gossip" in an interview with Housewives head honcho Andy Cohen. The more questions Andy asked, though, the clearer it became something had definitely happened.
Luann's maneuvering was confusing. She said stuff like, "We never go to bed angry, but when we do, when we wake up, we make up."
The takeaway: they go to bed angry.

Eventually, she admitted they did have a fight in a restaurant, but claimed she touched his face in "a very loving way" and people "took it as a slap." (Ha!)
Finally, just days before Luann announced the split, Tom was spotted "getting close" to a blond woman at a dive bar in Sag Harbour. A diner claimed Tom was "putting his hand over hers. He went in to get even closer to her, but she pushed him away noting that people could still be watching. It looked like he was up to no good."

Three days before they went public with their divorce, Luann and Tom denied anything had happened.
Luann's mea culpa
The timing of the split meant Lu was safe from any prying questions during the RHONY season nine reunion, but there was no way Housewives head honcho Andy was letting her off the hook until season ten.
Since she skated by scot-free during the reunion, Andy paid Luann a visit at her Hamptons home for a special one-on-one interview.
In the interview, Luann admitted the final straw was Tom spending time with his ex-girlfriends behind her back. "Tom went out and called up an old girlfriend," Luann explained. "They met up with a group of people and I didn't know about it. I found out about it the next day in the press. That for me was the final straw."
She also addressed her alleged slap with a touch more honesty, saying, "What I did was grab his face. It was in the heat of the moment. I was hurt about something, so I wanted his attention, so I grabbed his face. It wasn't really a slap."
The Real Housewives of New York can be streamed Live and On Demand on the new Global TV App , and on STACKTV . The network is also available through all major TV service providers.