In less than a season and a half on The Real Housewives of Dallas, LeeAnne Locken has already secured herself a spot on the shortlist of all-time great Housewives troublemakers alongside Danielle Staub, Brandi Glanville, Kim D and Kim G and the iconic Marlo Hampton.
The carnival-raised Housewife is, without a doubt, the breakout star of RHOD and one of the most offbeat, controversial Housewives we've seen in recent years. From pooping her pants (!!!) to sidewalk screaming matches to literally threatening to kill another cast member (she says she was not being literal, but we'll get to that…), LeeAnne has taken Housewives high drama to the extreme.
All horns, indeed.
So, where did this spitfire come from? We dug into LeeAnne's backstory, from her hard knocks childhood on the carnival circuit to the arrest report right out of a juicy episode of Dateline that came back to haunt her this season.
Here's what we found…
Life was no easy ride for little LeeAnne Locken
As LeeAnne has explained on RHOD, her carnival life started when she was still a child. At just three, while other kids her age were playing with rubber duckies in the bath, she was sending them down a rotating river as a carnival worker.
The circumstances that led her to the carnival are sad – her mother left her for the carnival when she was just three and her grandmother raised her. During the summers, LeeAnne would join her mom on the road, which exposed her to a dark side of life at a very early age. LeeAnne was exposed to hard drugs, including an incident where she saw a man jump from a Ferris wheel because he "thought he could fly."
She has also revealed she was mugged, beat up, and stalked during her years with the carnival. According to LeeAnne, she was also abused as a child by a friend's father who lived across the street from her grandmother's house. The pattern of abuse sadly did not end there – LeeAnne has been open about enduring domestic abuse at the hands of her ex-fiance.
The years working the carnival weren't all bad. LeeAnne has said she learned a great deal from working as a child, including how to handle money, and attributes her work ethic to those formative experiences. By age 11, she started purchasing her own carnival games and had adults working from her, which allowed her to earn enough money to "retire" from the carnival at 16 and pursue life as a model and actress.
She's struggled with serious mental health problems
LeeAnne worked her way out of the carnival world, but her childhood left her with serious emotional scars. She started to do well for herself via beauty pageants – she placed in the top 10 at Miss USA 1989 – and worked as a model, actress and spokesperson throughout her teens and twenties.

Before she started working in reality TV in her thirties, LeeAnne did a series of bit parts in TV shows and movies, including a cameo as a beauty pageant contestant in Miss Congeniality, and was nearly cast in Pamela Anderson's 'Tool Time' role in Home Improvement. At the same time, however, she was battling serious mental health issues, including depression and low self-esteem. According to a piece by the Dallas-based blogger Oh So Cynthia, who runs in the same circles as the RHOD Housewives, LeeAnne even once tried to take her own life.
LeeAnne's hotly contested police report
LeeAnne's Season 1 threat to "kill" Dallas friend of the Housewives Marie Reyes set off a string of events that would later bring even more skeletons out of her closet. LeeAnne was crystal clear she was never serious about the threat, saying "Haven't you ever heard someone in the street say, 'I'm going to kill your ass?' It's slang…It doesn't mean I'm going to take a knife and slit her throat."
Marie wasn't convinced. After the incident, Marie tweeted out a copy of a police report involving LeeAnne from 2008. The report reads like the synopsis of some insane TV movie, a la Mother, May I Sleep With Danger?
It documents the fallout of a night of clubbing LeeAnne spent with a man named Hubert Sebac, who it seems she was dating at the time. Apparently LeeAnne was angry Hubert had been flirting with another woman and when they returned to her house after the club, she chased him around her home with a kitchen knife.
It gets even wilder from there. Hubert told the police when he tried to hide in a bedroom with a locked door, LeeAnne began stabbing the door. When he eventually thought she left, Hubert claimed he left the locked room and she popped out from behind a corner and struck him in the face. He also claimed she slit his tires and stole his ID and keys. (You can read the whole police report over at Starcasm – it's pretty crazy.)
LeeAnne denied the whole thing.
"If you look at that record you will see that the person who filed it said no prosecution, which means he recanted all of it," she told the Dallas Observer. "So have I ever been in a relationship that got ugly and the person got completely dramatic? 100 percent. Sure. Have I ever gone at someone with a knife? No. That's ridiculous."
A new leaf for LeeAnne?
When it comes to Season 1 regrets, LeeAnne has plenty. She's aware of how she came off during Season 1.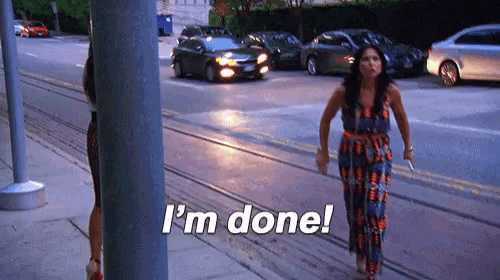 "I was stressed beyond stressed waiting for it to air, and then it aired and I didn't have myself together because I knew that I was in the wrong," she told People. "No one in the city looks at me that way. They're like, 'Oh my God, Leanne's the sweetest, Leanne will help anybody' — I just don't have that reputation here," she continues. "So to have it on a national level? It injured my soul."
She planned to dial it back for Season 2 and in a way she sort-of has. She hasn't been violent which, TBH, even though we're messy b's who live for drama, we're happy about. We don't need to see that on Housewives. In place of her anger is absurdity, which is just satisfying to watch. We're only a few episodes in and already we've got a two-faced impression of another cast member and a confessional in a hot dog suit. She simply can't get any more watchable.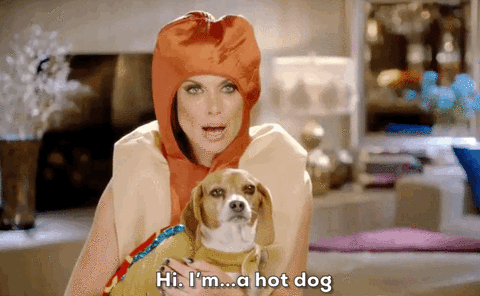 Long live our new Dallas hero, LeeAnne.
The Real Housewives of Dallas can be streamed Live and On Demand on the new Global TV App , and on STACKTV . The network is also available through all major TV service providers.